Low-Carb Nutrition: Low-carb Meal Ideas From Health Coach Kim Howerton
May 12, 2020
This low-carb meal plan was created by Kim Howerton (The Ketonist).
For questions, contact Jessica Wharton at jessica@lowcarbaction.org.
Eggs and Sugar Free Sausage
Ingredients:
2 Eggs
2 Tablespoons Butter
Pinch Chives
Pederson's No Sugar Breakfast Sausage
Salt & Pepper
Makes 1 Serving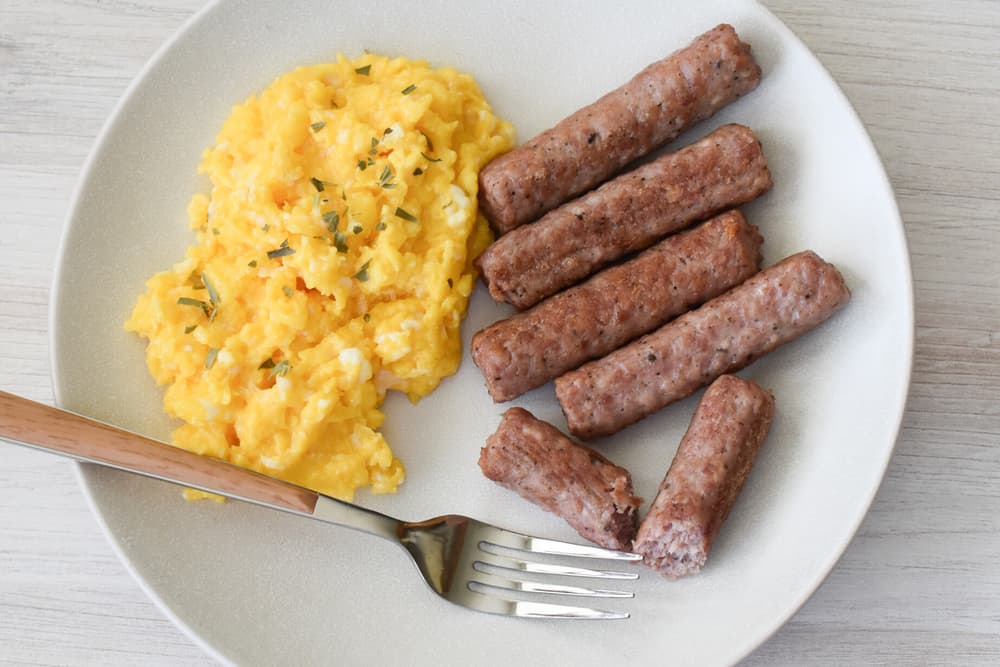 I do a soft scramble in the style of Gordon Ramsay – Put eggs and butter in a cold pot and slowly heat, stirring frequently until they've reached the desired doneness!
Finish with salt and pepper and chopped chives.
Protip: Don't add the salt until the end when making a soft scramble as it denatures the proteins and toughens the egg if added too soon!
Serve with Pederson's sugar free breakfast sausage links, they are pre-cooked, but I always brown them in hot pan before serving!
Chicken Salad
Ingredients:
5 oz meat from a rotisserie chicken or cooked chicken breast or thigh
2 Tablespoons Avocado Oil based Mayonnaise
1 minced Scallion/Green Onion
2 Stalks Celery
Salt & Pepper (to taste)
Optional: Pinch Italian Seasoning
Makes 1 Serving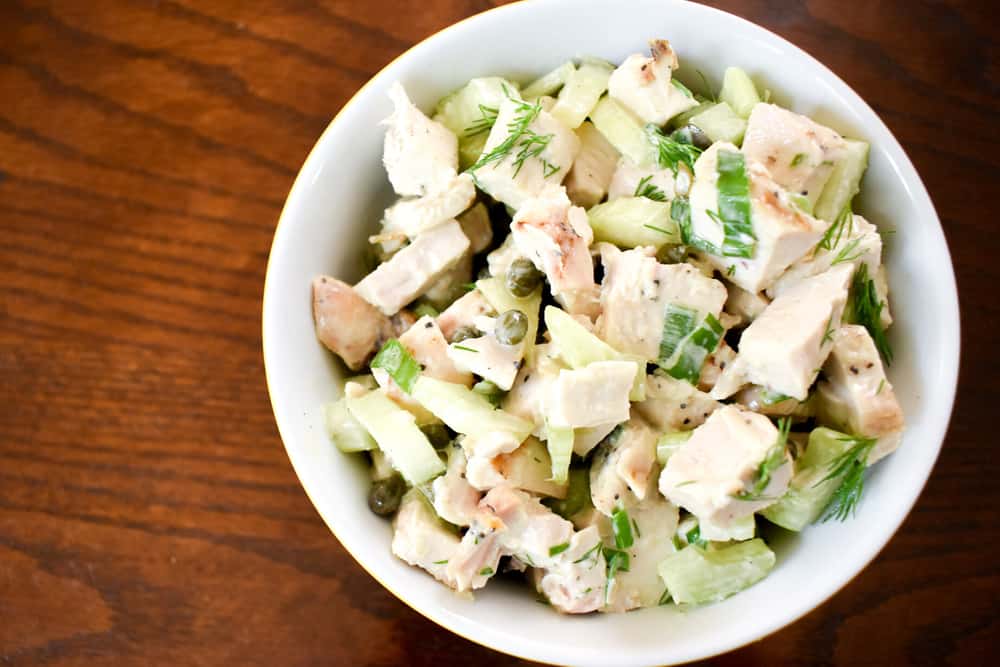 Chop everything up and mix it together. Easy Peasy.
For best flavor, make a few hours ahead for the flavors to meld.
This is a good one to make a big batch of (just scale up the ingredients). Lunch for days!
Steak and Salad with Basil Dressing
Ingredients:
8-10 oz New York Strip
1/2 English Cucumber
Few Sprigs Fresh Mint
Handful Cherry Tomatoes
5-6 Spears Asparagus
Salt & Pepper & Onion Powder & Garlic Powder
Avocado Oil
Basil Dressing or your own
If making the basil dressing, you need:
1⁄2 c good quality olive oil – I use California Farms
2-3 T lemon juice
1/2 tsp salt (I use Redmonds)
1 T apple cider vinegar
1 clove garlic, minced
2 oz basil leaves (about 2 cups packed)
Makes 2 Serving
Boil water and submerge Asparagus for 2 minutes, rinse under cold water. Slice into bite sized pieces.
Slice cucumber into thin rounds. Slice tomatoes into halves.
Toss with Basil Dressing or other dressing.
Basil Dressing:
Start by washing your basil in cold water and letting dry.
Add everything to blender.
Blend until smooth (yes, there will still be tiny pieces basil, that's good!) and taste. Add more salt or garlic or lemon or vinegar depending on your preferences! Store in fridge!
Makes about 12 Tablespoons, and I figure 2 T is about a serving.
Make the steak:
Leave Steak at room temperature for 30 minutes. Preheat the oven to 425. Season steak with salt, pepper, onion & garlic powder. Heat an oven safe frying pan with a splash of avocado oil. Heat to high, then sear steak by placing in pan 2 minutes side A, flip and cook side B 2 minutes. Now turn so the fat side is facing down and cook 3 seconds. Now flip to side A again 1 minute, then B 1 minute. Now place in hot oven for 5 minutes for medium rare. (3 minutes for rare, 7 minutes for medium)
Let rest 5 minutes before slicing.
Add some salad and steak to plates! The dressing is yummy on the steak too!
Italian Sausage, Broccoli and Red Pepper Fritatta
Ingredients:
16 oz broccoli rabe (or broccolini or regular broccoli)
12 oz ground Italian pork sausage OR ground pork with generous pinch onion salt
1 clove garlic, minced
2 T olive oil
2 oz Romano Pecorino or Parmesan cheese, grated
Red pepper flakes to taste
6 eggs
1⁄4 cup heavy whipping cream
1/2 c diced red pepper
Makes 6 Serving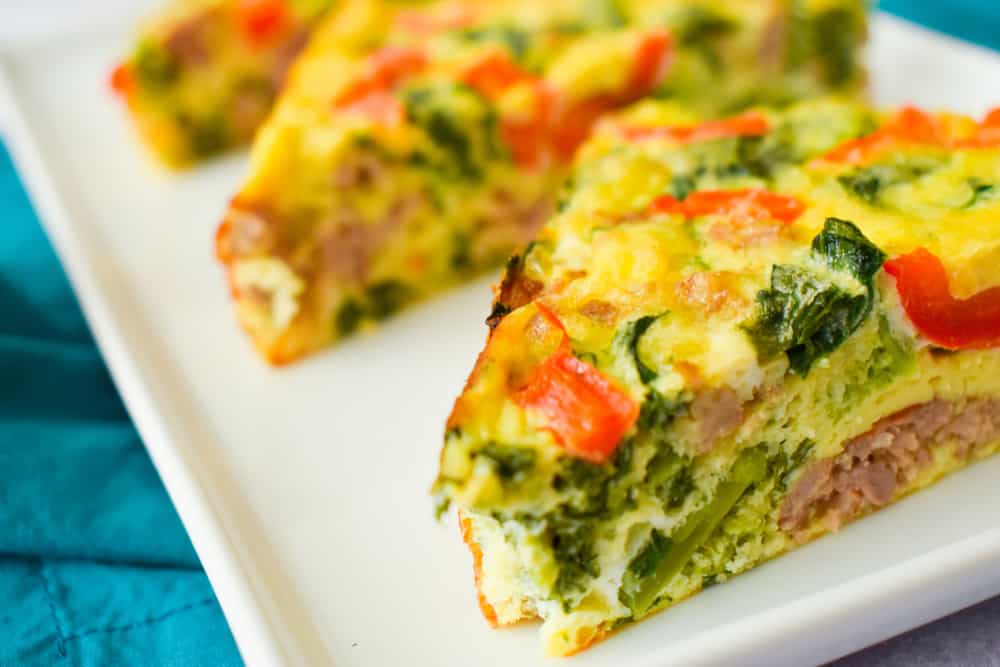 Cut bottoms off Broccoli Rabe and rinse very well. Cut into roughly thirds (if using regular broccoli, cut into bite sized pieces). Boil salted water in pot and add Broccoli Rabe, boil 3-4 minutes and drain. Squeeze out water. Add 2 T olive oil to pan, cook garlic 30 seconds, then add sausage, cook. If using red pepper flakes, add. Then add the prepped Broccoli Rabe, stir and heat through.
Remove from heat and put into casserole dish. Top with cheese.
In another bowl, beat eggs and cream and pinch salt and pepper. Pour over top so that cheese is just submerged. Sprinkle top with red bell pepper.
Bake 25-35 minutes until top is brown and casserole is set.
Serve warm or room temperature.
Greek Meatballs and Tzatziki
Ingredients:
Meatballs:
20 oz ground lamb
1⁄4 tsp salt
1T chopped Fresh Dill
1 T chopped Fresh Italian Parsley
1 T chopped Fresh Mint
1 tsp minced Fresh Chives
1⁄4 tsp onion powder
Tzaziki:
3 oz. English or Persian Cucumbers -diced
8 oz Low Carb Plain Unsweetened Yogurt – such as 5% Fage
1 T minced Fresh Dill Weed
2 tsp minced Fresh Chives
Zest & Juice of 1 Lemon
1⁄4 tsp salt
Makes 3-4 Serving
Lamb:
Mix all ingredients together well.
With clean wet hands, roll into 20 little balls and place on parchment lined rimmed baking sheet. Bake 350 for 8 minutes. Remove and set aside.
(You can alternatively make burgers. Form into four patties and cook in pan on the stove to desired doneness.)
While cooking, make Tzatziki.
Tzatziki:
Mix together all ingredients. Taste and adjust salt if needed. As the type of yogurt used will vary in thickness, you might want to add a few Tablespoons of water to thin if your sauce is too thick. Mix well. Keep chilled until serving.
Enchilada Casserole
Ingredients:
10 oz bag Cauliflower Rice
2 T Butter
Pinch Salt
Large Rotisserie Chicken (making about 1 lb meat when shredded)
6 oz Cheese, shredded (I like a combination of cheddar and monterey jack)
3/4 cup Green Enchilada Sauce (I use Sprout's brand – look for one without added sugar, should be less than 1 gram carb per)
Toppings:
Sour Cream, No Sugar added Salsa, Sliced Black Olives
Optional: Hot Sauce
Makes 4 Serving
Heat butter in a large skillet, add salt and cauliflower rice and cook for 6 minutes, until softened. Cool slightly.
Remove meat from rotisserie chicken, shred and add to a casserole dish. Mix with cooked cauliflower, enchilada sauce and spread evenly over dish.
Top with cheese and pop into oven for 20 minutes, to fully melt cheese and crisp the edges.
Remove from oven, plate, and add desired toppings.