Blog: Film Brings Hope to those Struggling With Obesity, Metabolic Disease
August 04, 2020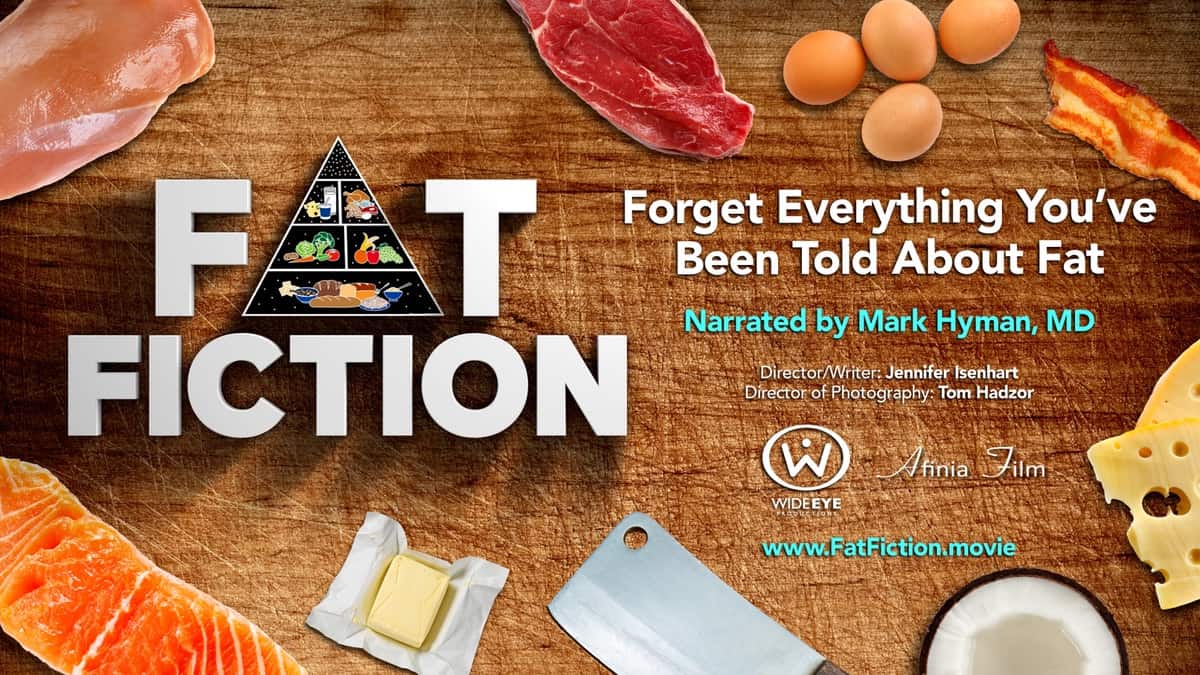 By Chris S. Cornell
The documentary, Fat Fiction, features a cast of many of the best-known, innovative, and knowledgeable practitioners, researchers and journalists in the world of therapeutic carbohydrate restriction, but one could argue that the film's true stars are the patients, whose successes are nothing short of inspiring.
Fans of the low-carb lifestyle will no doubt love appearances by best-selling journalists and authors Gary Taubes and Nina Teicholz, popular practitioners including narrator Dr. Mark Hyman, Dr. Jason Fung, Dr. Rob Lustig, Dr. Brian Lenzkes, Dr. Sarah Hallberg, Dr. Eric Westman, Alyssa Gallagher RD, and other well-known experts like Professor Tim Noakes, Johnny Bowden, Dr. Zoe Harcombe, PhD, Professor Andrew Mente, and LowCarbUSA founder Doug Reynolds.
Where Fat Fiction stands to make its greatest impact, however, is with viewers, who have tried, without success – in many cases for decades – to lose weight and improve their health following the misguided advice they've been given by practitioners.
That advice, which has over the past decades been driven largely from the U.S. Dietary Guidelines for Americans, includes the idea that "eating fat makes you fat," and that "saturated fat will kill you." Fat Fiction explores how these beliefs became ingrained in our minds and likely led to epidemics of metabolic diseases. Currently, the adult obesity rate in the U.S. stands at 42.4%.
Produced by Wide Eye Productions and directed by the award-winning filmmaker, Jennifer Isenhart, Fat Fiction succeeds wildly in its effort to bring hope to those struggling with obesity and metabolic disease—using real-life patient stories to show how much of what we've been told about nutrition, including fat, is indeed fiction.
Fat Fiction is both entertaining and educational. It provides a great deal of historical background about how the Dietary Guidelines came to be, and above all, it reveals a sustainable path to wellness for the millions of us who have searched fruitlessly for solutions for decades, as their doctors have given them advice that simply does not work.
"A very good sign that you've misunderstood the cause of a disorder is your inability to treat or prevent it," says Taubes, famous for his best-selling low-carb books, one of which, "Why We Get Fat," served as my own introduction to low carb in January 2018.
Looking at the health of our nation, it's clear that our success in preventing or treating type 2 diabetes and other metabolic diseases has been abysmal, and that a course correction is long overdue.
As someone who personally struggled unsuccessfully for decades to get down to a "normal" weight, I was able to relate easily with the patients in the film, whose success stories are likely to be motivational for anyone looking for hope. A low-carb diet finally allowed me to sustainably lose more than 80 pounds, after years of low-fat and calorie-restricted failures.
I stumbled upon the low-carb lifestyle a little more than two years ago, after a friend recommended Taubes' book. The result for me was near-instantaneously life changing. Fat Fiction will likely lead to many similar "aha" moments for viewers fortunate enough to find this film.
In a particularly effective segment, Fat Fiction follows three metabolically healthy patients—Nick, Tracy, and Cynthia—as they undergo a two-week experiment in which they use a continuous glucose monitor (CGM) to measure the different effects of a low-carb ketogenic diet versus a 2,000-calorie, government endorsed, low-fat plan which includes whole grains, lean meats and vegetable oils (with more than half of the day's calories in the form of carbohydrates).
Viewers will be interested in the results of the experiment (spoiler alert: the low-carb diet led to more energy, fewer cravings and more weight loss than the low-fat version), but possibly even more interesting is the way the CGM, a relatively inexpensive device, allowed patients to track their blood glucose levels in real time.
Unlike a traditional meter, which typically provides the patient a few static readings, the CGM provides continuous, dynamic glucose information in the form of a graph throughout the day. If Fat Fiction were simply to succeed in getting more people to wear CGMs, that alone would be a major victory.
Nick, Tracy, and Cynthia learn that the low-carb, keto diet tends to leave them feeling satiated for longer, and they observe through their CGMs that their blood sugar is more stable when they're not eating carbs. Witnessing their reactions is a true revelation.
"One way to think of carbs is they are like kindling on a fire," says Dr. Mark Hyman of the Cleveland Clinic who narrates the film. "They burn quickly and then go out, dropping your blood sugar and creating severe cravings—the physical signal that your body needs more fuel. To keep your metabolism burning, you must constantly eat more… then you crash…. And then you eat more, and then you crash."
Another highlight of Fat Fiction was learning about the stunning success that Dr. Sarah Hallberg has had treating patients with type 2 diabetes. We've been taught that type 2 diabetes is a chronic and progressive disease, but Hallberg's work has disproven that idea.
"It is chronic, irreversible, and inevitably progressive if you take the [US Dietary] guidelines currently in place and utilize them as your treatment plan," she says.
Hallberg is leading a trial that has helped hundreds of patients safely and sustainably reverse type 2 diabetes diagnoses without medications or surgery. Patients often get off all their medications through the implementation of carbohydrate-restricted diets.
In Hallberg's clinical trial of more than 500 patients, more than half of the subjects in the intervention group reversed their diagnosis of diabetes in the first year. Ninety-four percent had their insulin doses decreased or totally eliminated.
By comparison, the American Diabetes Association reports a less-than one percent success rate at reversing diabetes when people follow its own low-fat advice, reports the film.
Fat Fiction also takes us to the office of Dr. Brian Lenzkes in San Diego, a physician who discovered the low-carb lifestyle in 2017 and used it to lose more than 50 pounds. Soon after, he began helping his patients lose weight through the implementation of what he describes as "evidence-based lifestyle change."
"I was around 260 pounds, and at that time I was also pre-diabetic," says Dr. Lenzkes. "Clearly what I was doing wasn't working. I was following the government guidelines, and I was getting sicker and sicker."
Since adopting the low-carb, ketogenic approach, many of Dr. Lenzkes' patients have reversed their diagnosis of type 2 diabetes and come off of insulin.
One of his patients, Allie, says, "At three months, I went from insulin five times a day to no insulin, and I was able to maintain normal blood sugars."
"Since last March, I've lost between 50 and 60 pounds," explains another patient named Mike. "I've gained a lot of muscle as well."
A significant portion of the film is also devoted to the history of the Dietary Guidelines and exactly how the government adopted such flawed nutrition advice. That history includes religious objections to the consumption of meat dating back to the 1800s, and a critical turning point that occurred in 1955, when President Eisenhower suffered a heart attack, which focused the attention of the nation on the growing problem of heart disease.
Viewers may begin to understand the anger many feel about our national nutrition policies when they learn about the undue influence of Ancel Benjamin Keys, a researcher at the University of Minnesota, who relentlessly pushed his theory that saturated fat and cholesterol cause heart disease, as well as the many instances when science was ignored or, in some cases, covered up.
Journalist Nina Teicholz summed it up well when she said "It's hard to think of another policy that has…been so wrong."
I had the opportunity to watch a screening of Fat Fiction at the Low-Carb Conference in Denver in mid-March.
"Fat Fiction debunks the fear of dietary fat," said conference co-organizer Dr. Jeffry Gerber. "The documentary is filled with inspiring success stories regarding the benefits of low-carb diets. Science, politics and food policy are clearly explained by doctors, healthcare professionals, researchers, scientists, journalists and nutrition advocates who promote eating low carb and healthy whole foods. The knowledge gained can be life changing, and I believe this is an important film to watch."
Dr. Tro Kalayjian, a board-certified Internal Medicine & Obesity Medicine physician, who himself used carbohydrate restriction to lose 150 pounds, explained the impact a film like this can have in reaching individuals who are struggling, as well as in creating greater awareness about the benefits of therapeutic carbohydrate restriction.
"Fat Fiction is an excellent film," Kalayjian said. "It explains how we got here, and provides us with answers as to how we can collectively move forward and address many of these nutritional and medical challenges. Bottom line, this film provides hope."
Chris S. Cornell is a writer, photographer, and digital marketing professional with a strong interest in nutrition and metabolic health. He is Vice President of Digital Marketing at WOW Production Services in New Rochelle, NY. Chris adopted a low-carb lifestyle at the age of 53 and sustainably lost more than 80 pounds. Chris lifts weights and runs, and is a cancer survivor.