Blog: A Deeper Look: Dietary Guidelines Influence School Meals and More
January 07, 2021
By Jessica Wharton
The Low-Carb Action Network (LCAN) has been researching the foods fed to our nation's children through the government's National School Lunch Program and the Special Supplemental Nutrition Program for Women, Infants, and Children (WIC).
The foods chosen for these programs are largely directed by the U.S. Dietary Guidelines for Americans (DGA), which are highly influential across the entire US population. For people who are economically disadvantaged and rely on the government's feeding assistance programs, the DGA is especially influential, since the foods provided can make up a majority of that person or family's diet.
The school lunch program, founded in 1946, is a federally assisted meal program operating in public and nonprofit private schools as well as residential childcare institutions. In 2016, the program fed 30.4 million children.[1]
The U.S. Department of Agriculture (USDA), which runs the program, contracts with a number of multinational companies to provide food for these programs. From Pepsico alone, here are some items that USDA purchases for children to eat at school:
The multinational cereal-maker Kellogg's Co. is another USDA contractor. For school lunches, Kellogg's promotes high-carb snacks—which, surprisingly, are allowed by USDA Guidelines. Unfortunately for children who look to meals and snacks at school to provide their needed nourishment, these food products fall far short of providing nutrient-rich whole foods. Kellogg's appears more interested in profits and brand awareness than in nutrition.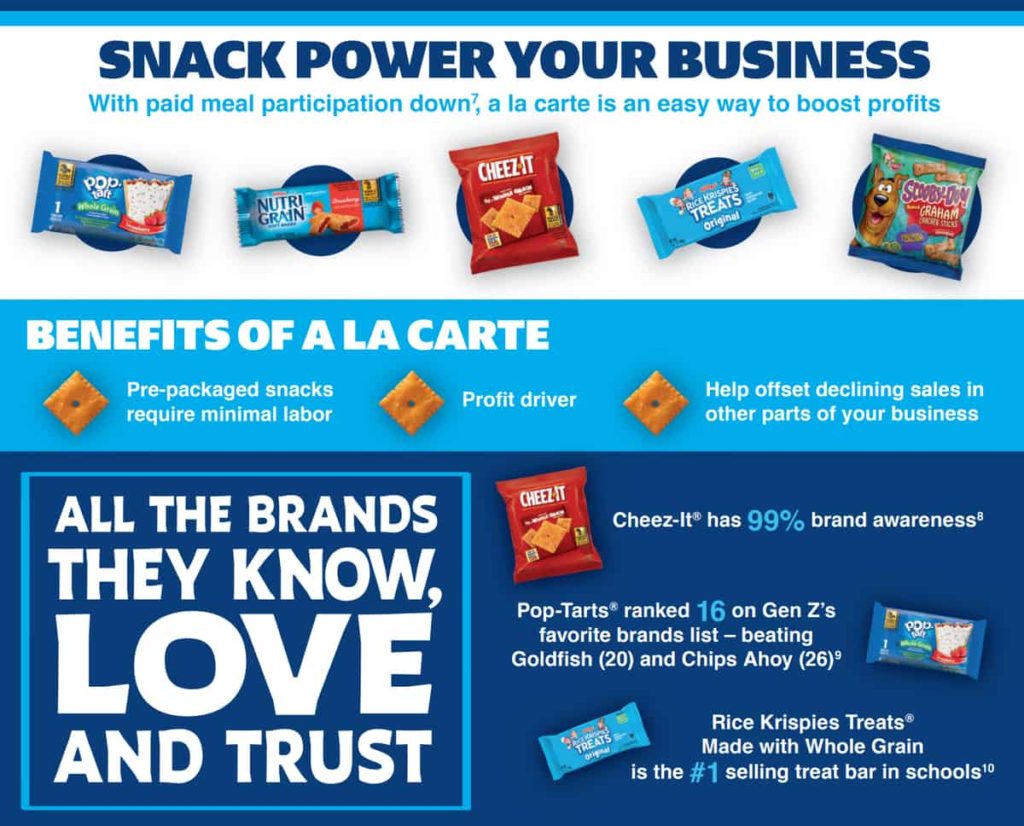 [3]
The Domino's pizza company also works with USDA school feeding programs to offer "Domino's Smart Slice" which is "built specifically to the needs of [your] school and can meet all USDA guidelines. It can be made with ingredients like real lite mozzarella cheese, reduced fat pepperoni, and dough that's rich in whole grain."[4]
Perhaps not surprisingly, the percentage of obesity among children and adolescents in the U.S. has tripled since the 1970s.[5] Today, 18.5% of adolescents and young adults aged 2-19 years have obesity, affecting nearly 14 million children, according to the CDC.[6]
WIC is another USDA-run feeding program which "promotes healthy eating and nutrition education for infants and children up to age 5, and low-income women who are pregnant, postpartum, or breastfeeding."
Nearly 9 million people receive WIC benefits each month.[7]
While approved WIC foods vary by state, all must comply with the USDA Dietary Guidelines. Below is an example of just some of the high-carbohydrate foods promoted in the Washington, DC WIC program:[8]
Nationally, 12.9% of WIC participants aged 2-4 have obesity.[9]
The food on childrens' plates matter, and in many instances, the Dietary Guidelines are failing children who depend on the government for healthy, nourishing meals and nutritional guidance.
Children deserve nutrition guidance that will help them build healthy futures, not set them back with health issues like obesity, diabetes and high blood-pressure, due to USDA partnerships with snack companies like Pepsico, Kellogg's, CocaCola, and General Mills.
It's also important to realize that the DGA is not well matched to the populations it serves via school lunches and other Nutrition Assistance programs. A high proportion of the people in these programs. have diet-related diseases. Yet the USDA has restricted the Dietary Guidelines to address "healthy" Americans only, i.e., those without any diagnosis of a chronic disease—not even obesity. The USDA's feeding programs are therefore not appropriate for the majority of the populations they serve. We call them a "tragic mismatch."
It's time to call out USDA's cozy reliance on massive multinational corporations that are feeding packaged junk food to our kids, our elderly, and others who comprise our most vulnerable populations. They need fresh, local foods that are appropriate for their health condition—not a package of corn chips from Frito Lay or Domino's pizza.
---
[1] https://www.fns.usda.gov/nslp/nslp-fact-sheet
[2] https://www.pepsicoschoolsource.com/searchproducts.aspx#
[3] https://www.kelloggsawayfromhome.com/content/dam/kelloggsspecialitychannel/images/virtual-resource-center/assets/KSC36703_K12_ALaCarte_Program_SellSheet.pdf
[4] https://biz.dominos.com/documents/1697006/6681236/SmartSliceBrochure+-+updated+9.19.pdf/671e5f29-df92-be23-b6f8-a5cc8fc7f29
[5] "Obesity," U.S. Centers for Disease Control and Prevention, September 18, 2018, https://www.cdc.gov/healthyschools/obesity/index.htm
[6] https://www.cdc.gov/obesity/data/childhood.html
[7] https://www.fns.usda.gov/wic/wic-retail-store-fact-sheet
[8] https://doh.dc.gov/sites/default/files/dc/sites/doh/DC%20WIC%20Authorized%20Food%20List.pdf
[9] https://www.cdc.gov/obesity/data/obesity-among-WIC-enrolled-young-children.html